Original Artworks & Organic Skincare
Original & Unique Wall Art
Handmade Jewellery
Organic Skin Balms & Natural Perfumes

Welcome to my online Original Art & Skincare library.
Every Artwork and Skincare cream is hand created by me. Made locally in Albury, NSW
Each item is 100% unique

Created Individually in my Creatively Inspired Art Studio.
Opening Hours
ARTWORK viewings & purchases can also be made at:
'SELFMADE MARKETPLACE'
Located at Albury West End Plaza & Lavington Square
Earring & Skincare purchases are also available in store
Organic Skin Balms - For Purchase Online & stocked at Nu Nu Beauty, Olive Health Foods
& 'Self Made Marketplace' West End Plaza & Lavington Square- Albury NSW
Please email or message me via socials to make contact
hello@kerriemaydesigns.com.au
​Online always open :)
Organic Skincare Balms
Handcrafted with quality Natural & Organic butters, oils & 100% Essential oils all sourced within Australia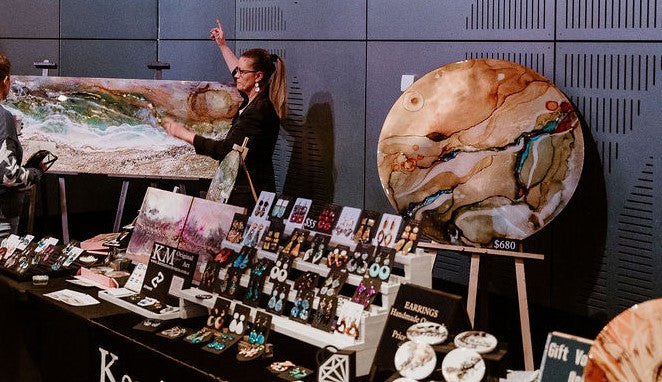 Stockists
West End Plaza & Lavington Square, North Albury, NSW 2640- Original Art, Organic Skincare & Original Hand Made Earrings
Olive Health Foods Olive Street, Albury NSW - Organic Skincare
NuNu Beauty - Shop 5/659 Young Street, Albury - Organic Skincare
Information
Workshops

I will NOT be holding any workshops in either Resin or Alcohol Ink at any point in the near future.

I do recommend making contact with 'Bliss Creations' - Albury/Wodonga for Resin Workshops.
Original Art

Each and every piece of item is authentically created by me. Each Artwork is unique and one of a kind.

My earrings are also unique in colour palette & style with no 2 pairs exactly identical.
Commissions

COMMISSIONS CURRENTLY CLOSED FOR 2023.

Keep an eye out on socials for when I re-open.

Prices will be quoted upon request.

Please check out my socials to view my past styles.

Cremated Ashes - Family or Pets

Please reach out to discuss a Resin ArtPiece
What Resin do I use?

I choose ABR-Australian Beach Resin as my 'go to' epoxy on my Original Artworks and handmade Jewellery.

Reliability in knowing that I use quality Australian made & owned certified products.